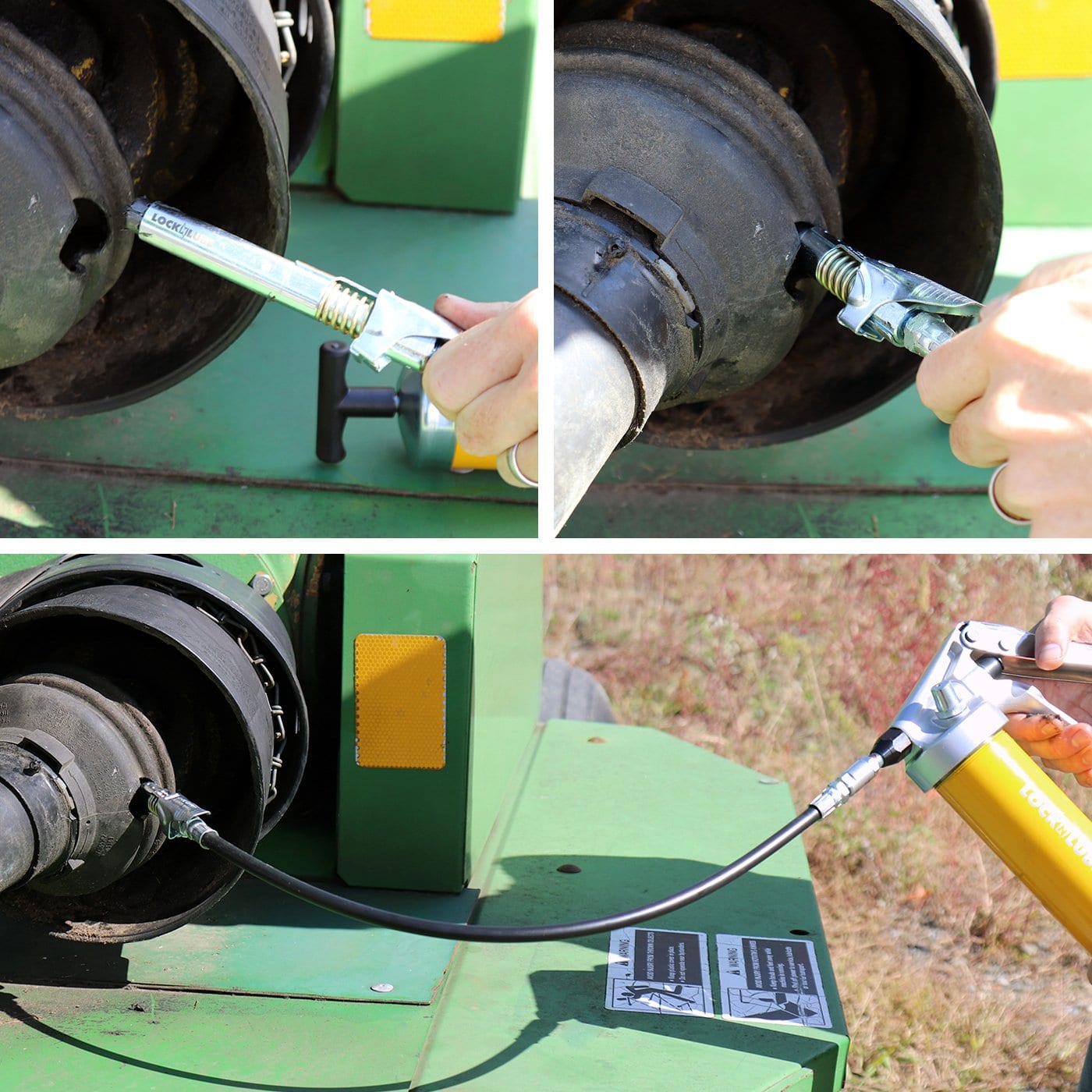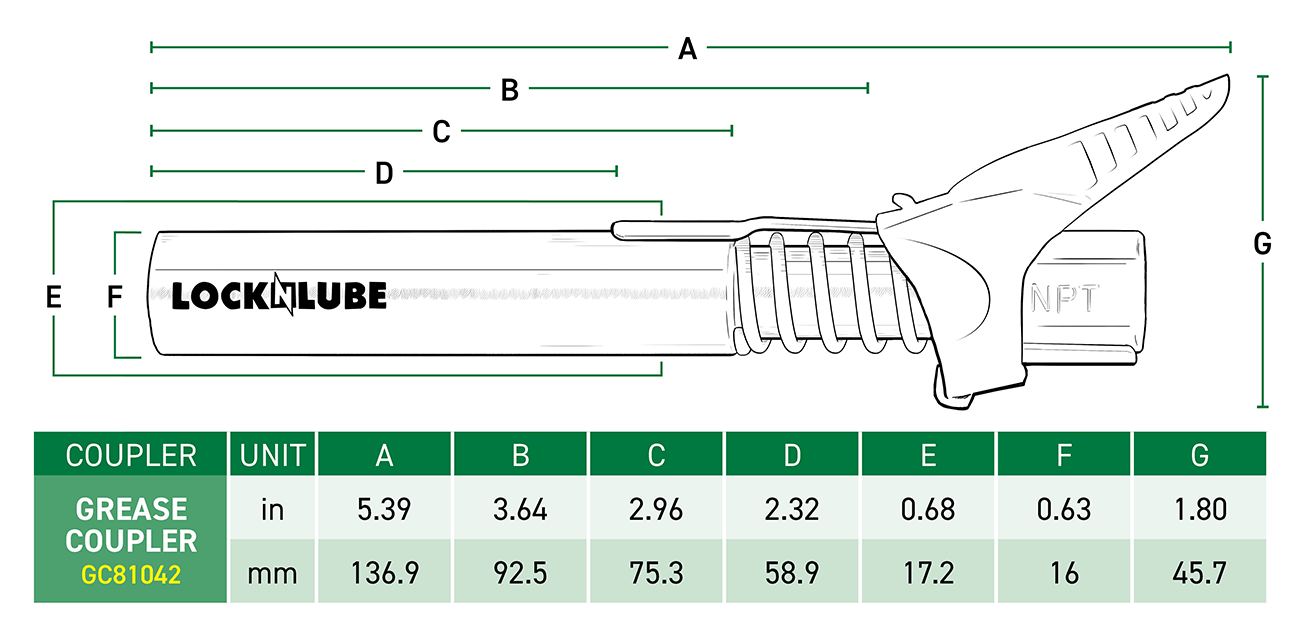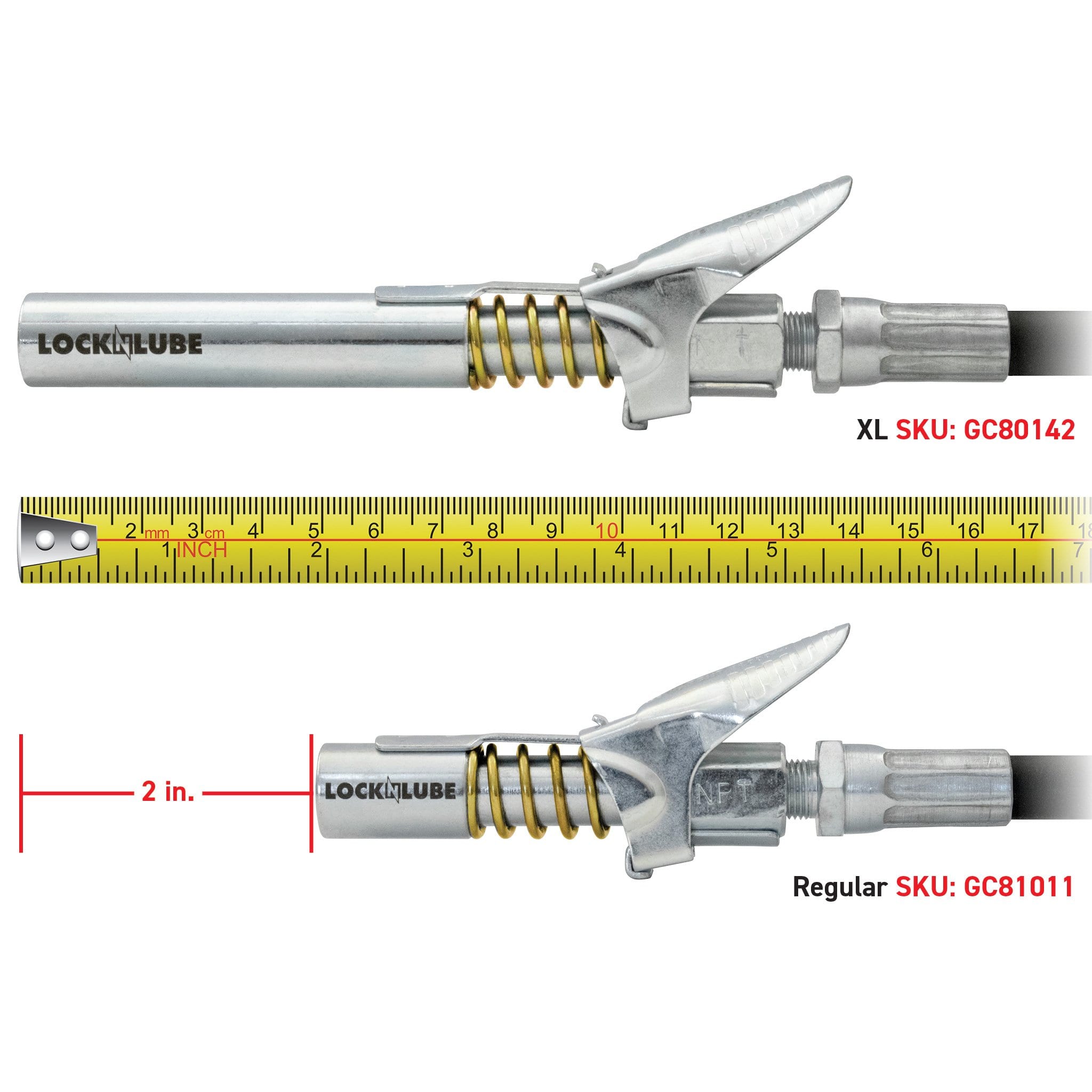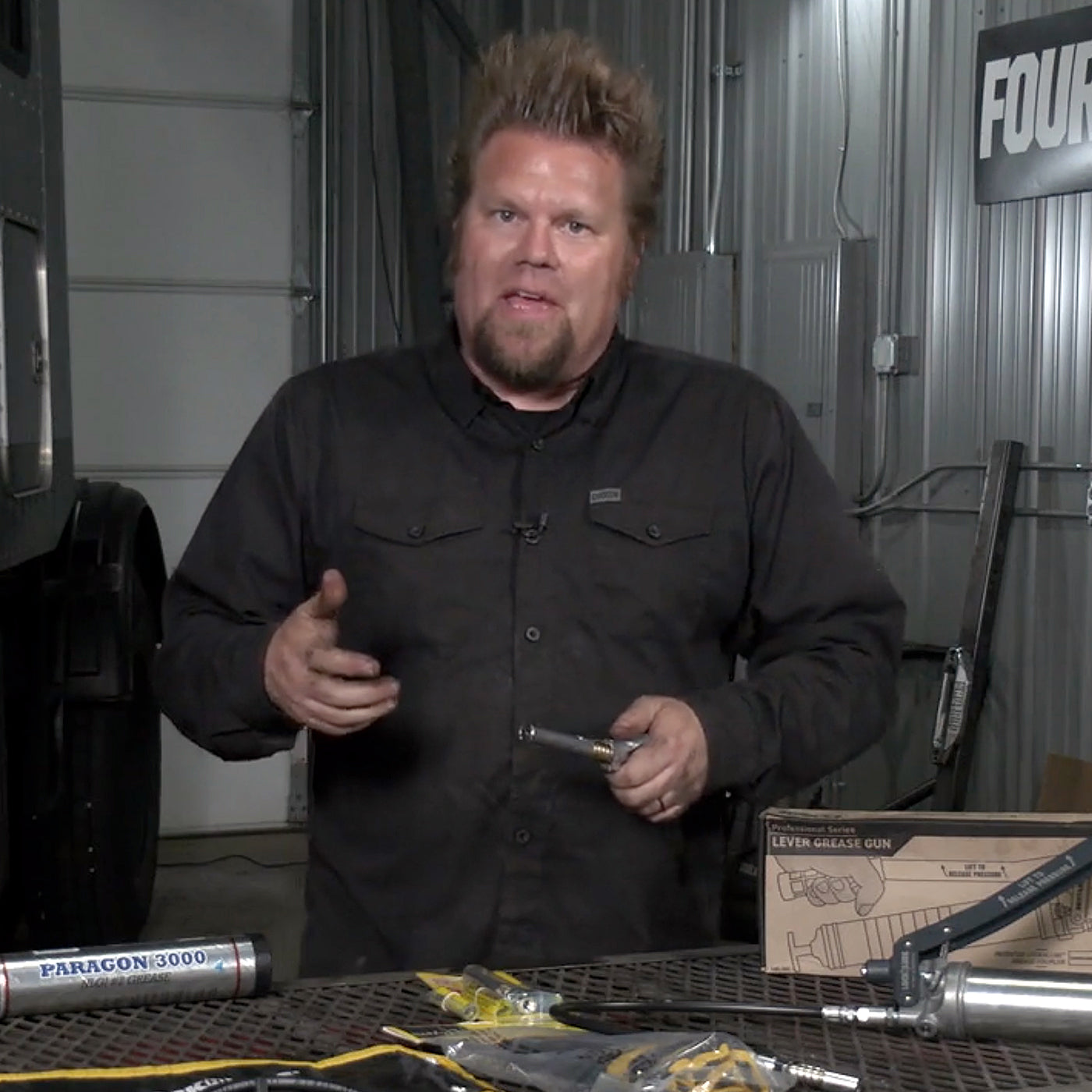 LockNLube Grease Gun Coupler XL - Extra reach for recessed grease fittings
SKU: GC81042
Over 3.5" of reach. Great for shielded PTO shafts, axles, harvester heads, U Joints and other recessed grease fittings.
Rated to 10,000 PSI! Locks on, stays on. Does not leak once locked on.
Hands-free - does not pop off under pressure.
Easily release from fittings with the thumb lever, even at extreme pressure.

No more broken Zerks
Fits all standard Grease Guns - 1/8 NPT fitting. Fits all SAE and Metric Zerk fittings. Simply replace your existing coupler.
Includes rebuild kit. Easily replace seal and jaws without replacing the coupler.
LockNLube Grease Gun Coupler XL - Extra reach for recessed grease fittings
Uses & Compatibility
The LockNLube® Grease Coupler XL, just like the shorter original, is compatible with all grease guns and grease fittings. It does not leak once locked on and will not pop off under pressure. No hands are needed to align or hold the coupler in place while greasing. You have both hands free to operate your grease gun and know that the grease will go in, not on, your machine. Guaranteed.
The XL is suited for all machines, but especially useful for U-Joints, Harvester Heads, shielded PTO shafts, and any fittings buried deep behind a shield. With almost 4" of reach, you can be confident that you'll reach your fittings and grease will go in, not on, your machine. When you want to release the coupler, simply depress the thumb lever, even at extreme pressures. Watch our YouTube video demonstrating the LockNLube® Grease Coupler XL.
Product Features
It has a unique sliding sleeve, activated by a thumb lever. The sleeve locks the four spring-steel jaws onto the Zerk fitting, and releases the jaws by pushing on the thumb lever. When the jaws are locked onto the Zerk, a leak-proof seal is created. The locked connection is positive and rigid preventing the coupler from coming loose and breaking the leak-proof seal. If a fitting becomes pressurized, especially a recessed one, just depress the thumb lever and release the coupler.
Replaceable Seal & Jaws
The LockNLube® Grease Coupler XL is fully rebuildable. If it starts to leak, you simply replace the seal and jaws and it is as good as new. See our tutorial here. We include a free rebuild kit with every coupler that we sell. Additional rebuild kits are also available from our store. The rebuild kits for the LockNLube® Grease Coupler and the LockNLube® Grease Coupler XL are identical and can be used in either model.
---
LockNLube® Grease Coupler Care & Maintenance:
Check out our YouTube channel for an easy method to clean dirt and grit out of your coupler. This will extend the life of the seal, which means longer use time between rebuilds. If you find your coupler starting to leak, try this cost-saving tip before you put a rebuild kit in it.
Consider using a Coupler Cap and Zerk Fitting Caps to keep your equipment clean.
---
Demonstration of LockNLube XL features and releasing from a clogged fitting at 8,000 PSI
The LockNLube® Grease Coupler XL features almost 4″ of reach, 2″ more than the standard LockNLube® Grease Coupler. Especially suited for deeply recessed fittings, and with the same leak-free, hands-free convenience of the traditional model.
Over 20,000 Five-Star Reviews
"I highly recommend LockNLube. Great product and unbelievable customer service!"
"I loved my first so much a bought a second. Don't even worry about shopping around. This Is Your Grease Gun!!"
"Greatest thing since the invention of the aluminum beer can ... won't own a grease gun without it"