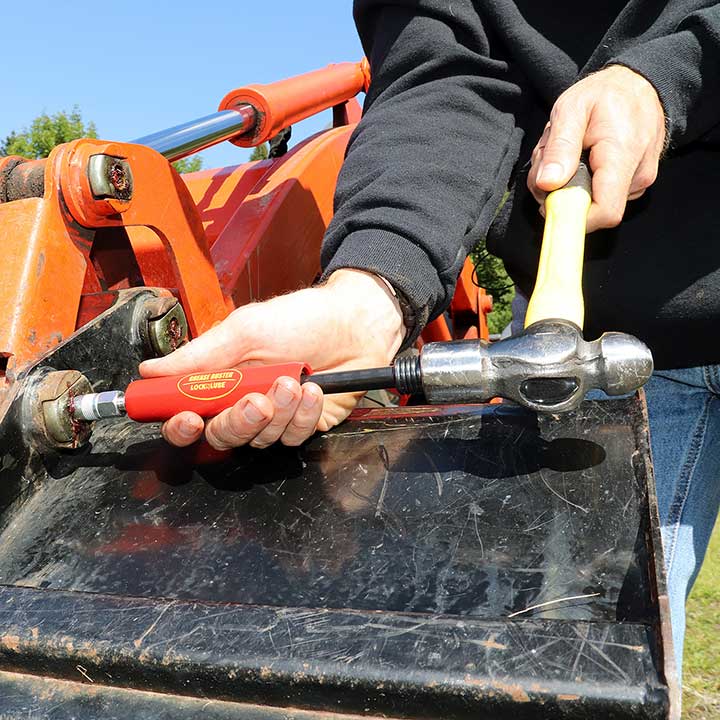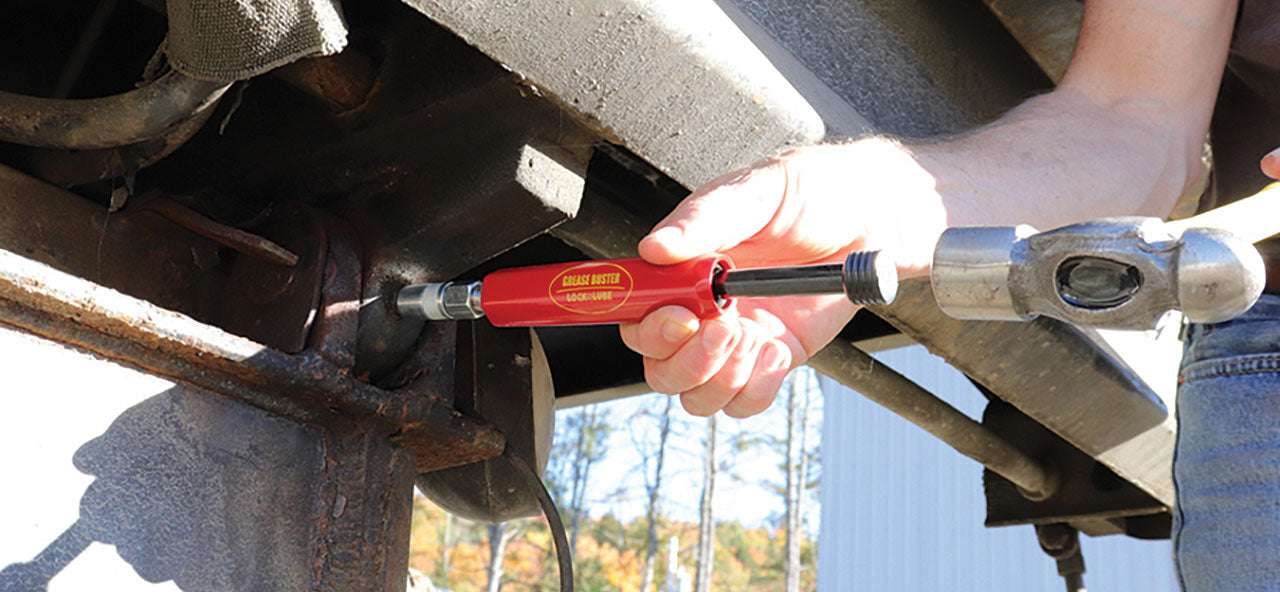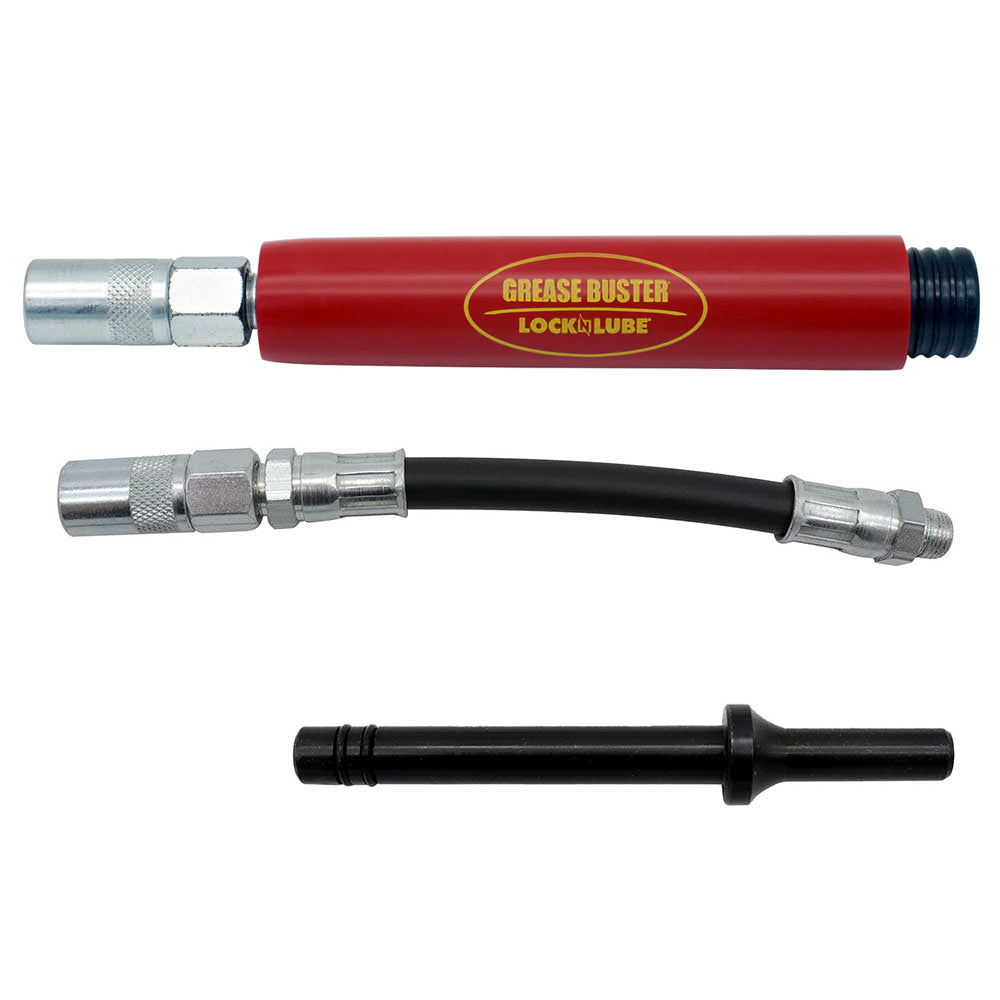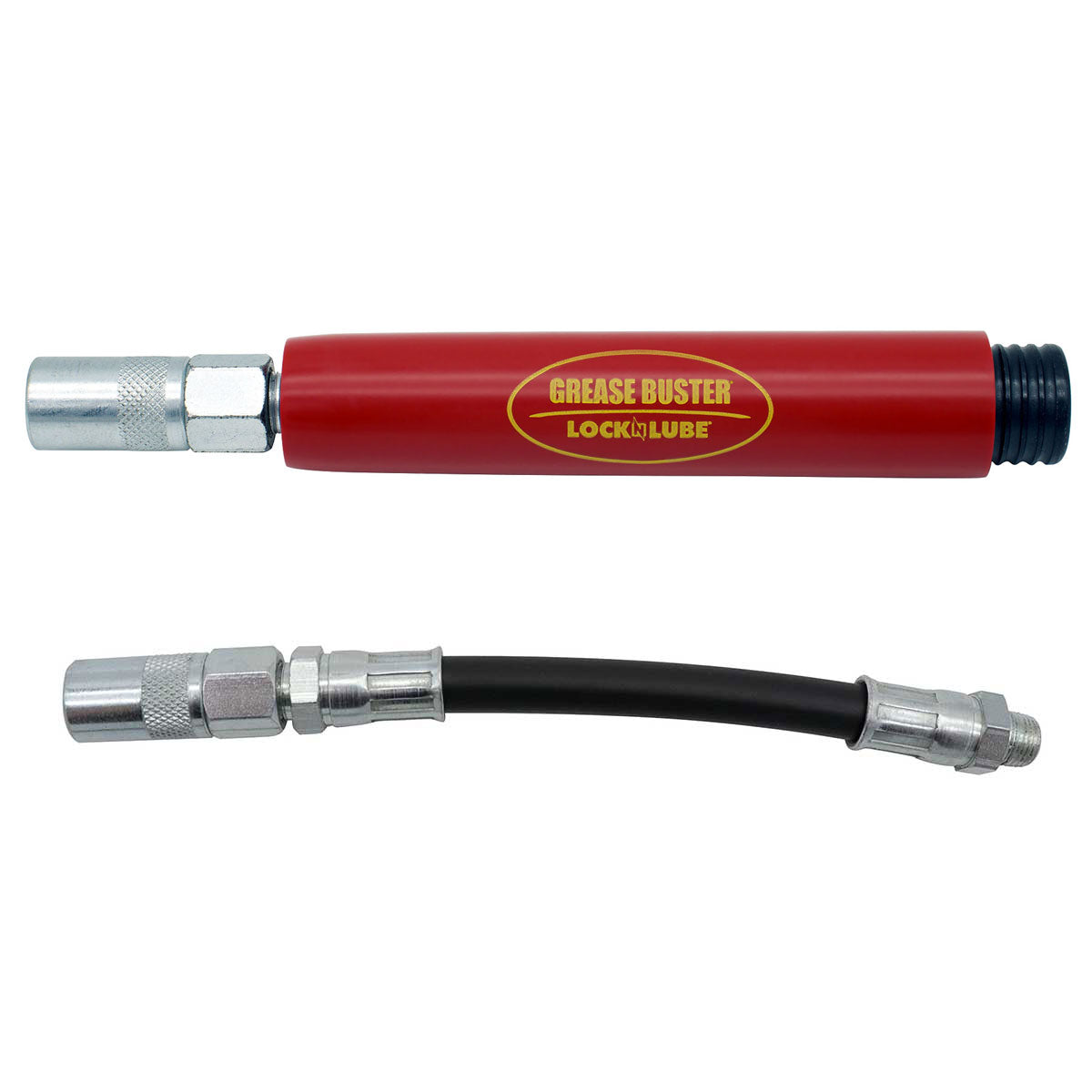 The Original Grease Buster® - Clear out clogged grease fittings
Open up clogged grease fittings with the Grease Buster®. Simply fill with a
solvent
and tap the piston with a hammer. The updated design includes a textured grip and two O-rings on the piston. Manufactured by LockNLube in the USA. 
Cleans and flushes out old dried grease from fittings, pins, shafts, bushings, and joints
Uses penetrating fluid and hydraulic pressure
Reduces downtime. Much cheaper than new bearings!
Hose extension and pneumatic piston available
Not for use with sealed bearings
The Original Grease Buster® - Clear out clogged grease fittings
Over 20,000 Five-Star Reviews
"Best grease gun I've owned! Works exactly as described. Zero issues with priming the gun. The locking coupler works fabulously and leaves a free hand to help pump."
"Greatest thing since the invention of the aluminum beer can ... won't own a grease gun without it"
The Original Grease Buster® is the toughest tool on the market to open clogged grease fittings.
The Original Grease Buster® is the most rugged version of his products, fit for heavy use and compatible with the pneumatic piston.
The Grease Buster's piston, included with the product, is hollow and should be filled with a liquid (not aerosol) penetrating oil. Seat the piston in the Grease Buster, attach the coupler to your Zerk fitting, and tap the piston with a hammer. This forces the penetrating oil into the fitting and loosens it for regular greasing.
For customers with a pneumatic hammer, they might prefer using the pneumatic piston (sold separately) instead of the standard piston.
PROPER USE
The Original Grease Buster® is the answer to a problem that many people have lived with for a long time. Plugged-up grease fittings and bearings are a problem common in machinery. One greases a machine and the grease can dry out before the machine is used again. The tool consists of a heavy-duty adjustable hydraulic coupler, cylinder, and a piston with a knob.
Instructions: Remove the piston. Fill the cylinder by pouring in penetrating oil. Start the piston back into the cylinder. Place the tool onto the grease fitting and by tapping the piston, forcing the solvent into the fitting and or bearing. The key word is TAP. Using a lightweight hammer and small, rapid taps, work the penetrating oil into the fitting. You're trying to dissolve the clog, not blast it out of the way. Repeat if necessary.
FEATURES + BENEFITS
Opens clogged grease fittings
Uses penetrating oil and hydraulic pressure
One Year Warranty with normal use
Reduces downtime, cheaper than new bearings
Compatible with the Hose Extension and Pneumatic Piston