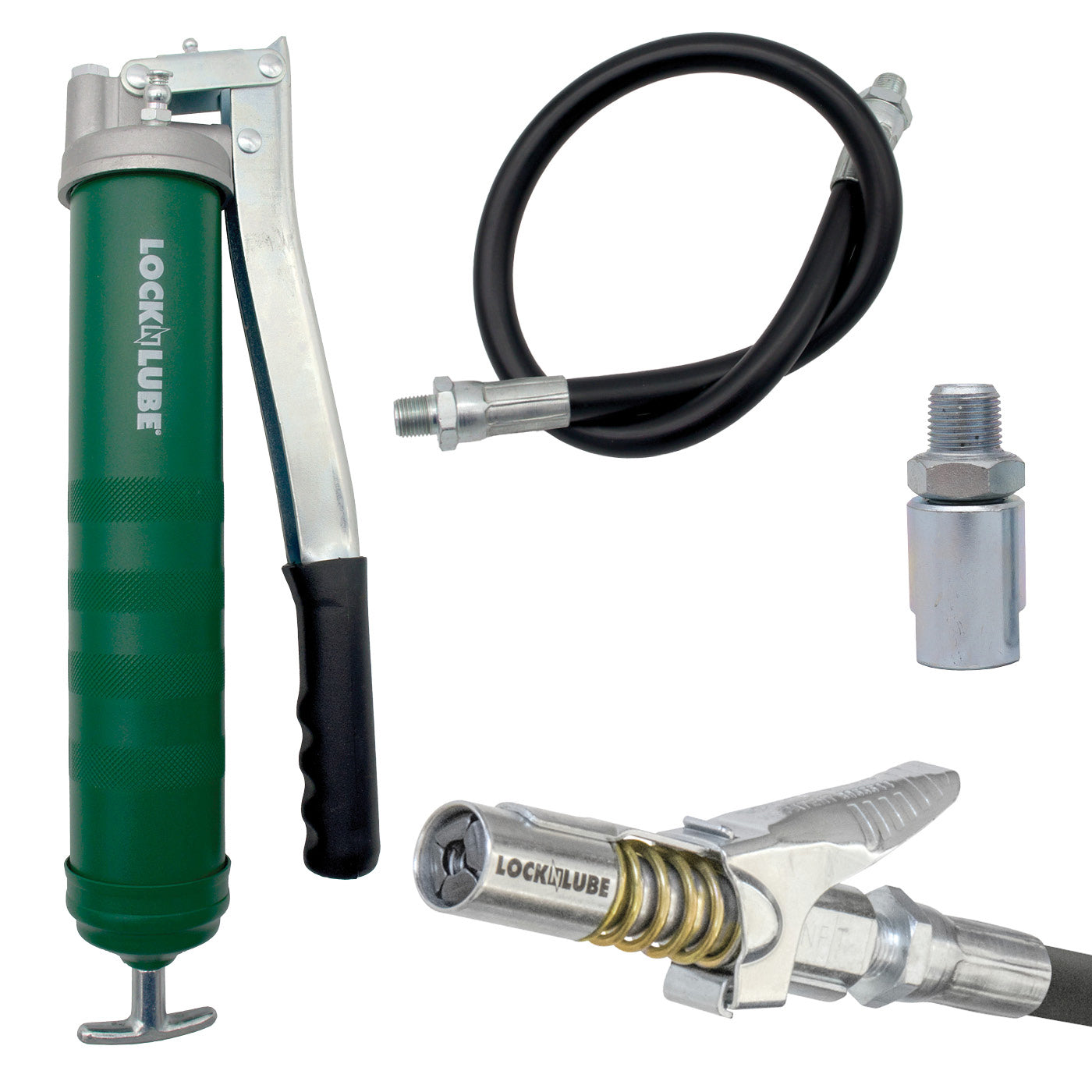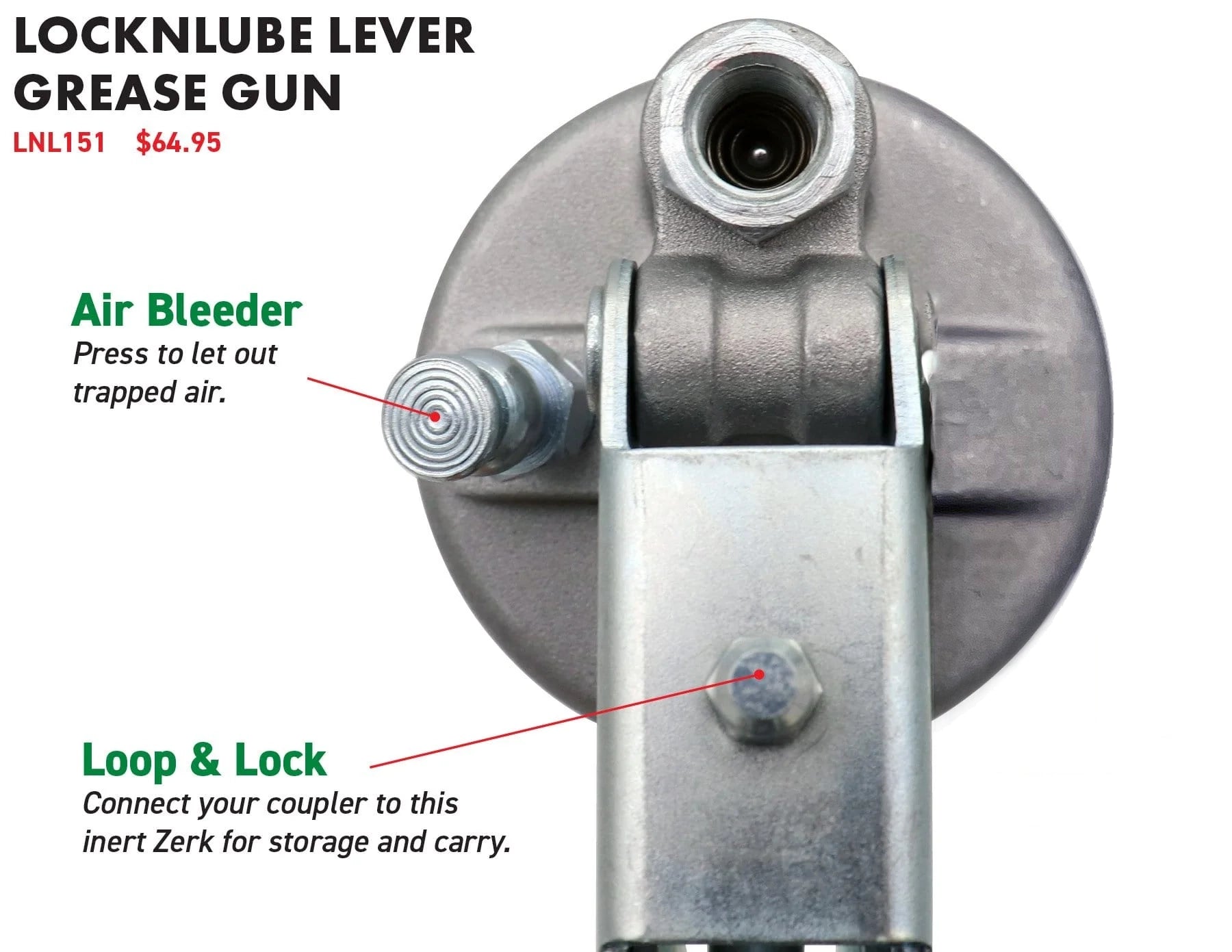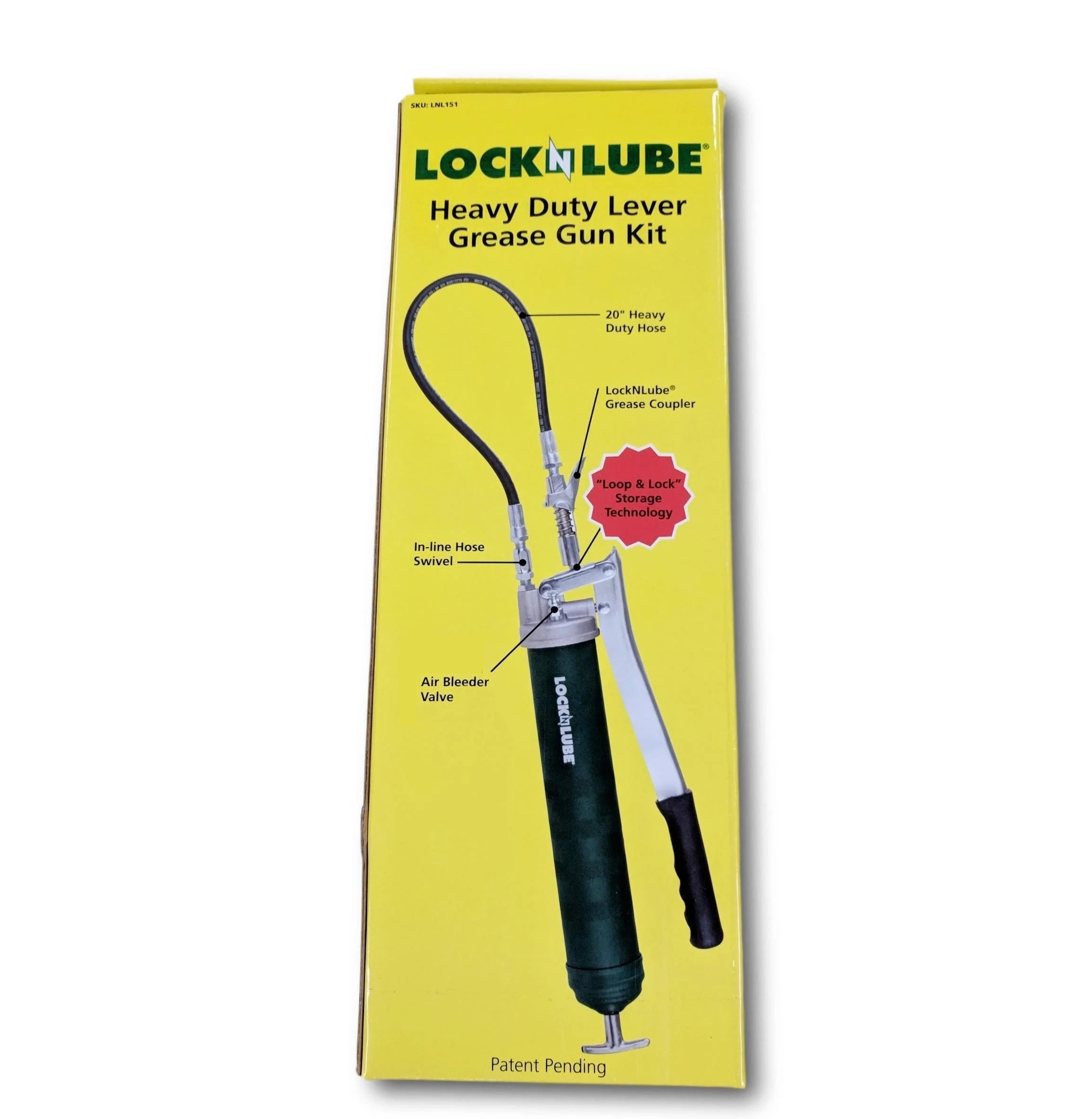 LockNLube Heavy-Duty Lever Grip Grease Gun
LockNLube® Grease Coupler Locks On—Stays On—Doesn't Leak
"Loop & Lock" storage feature keeps you clean
20" Heavy Duty Hose and in-line hose swivel
Rubber grip and ergonomic handle
The LNL151 is a heavy-duty lever grease gun that delivers an ounce of grease in 28 strokes and up to 10,000 PSI. Holds 16 oz. bulk grease, or a standard 14 oz. cartridge. 20" heavy-duty hose with In-Line Swivel and LockNLube® Grease Coupler makes greasing fast, clean, and easy. 
Our "Loop & Lock" storage feature allows you to secure the coupler when not in use. It also creates a loop in the hose easily used for storage or carrying. This means no more greasy mess on your clothes, truck, and shop from loose hoses flying around when you pick up the grease gun.
LockNLube Heavy-Duty Lever Grip Grease Gun
Over 20,000 Five-Star Reviews
"Best grease gun I've owned! Works exactly as described. Zero issues with priming the gun. The locking coupler works fabulously and leaves a free hand to help pump."
"Greatest thing since the invention of the aluminum beer can ... won't own a grease gun without it"
The LockNLube® grease guns are the world's first leak-free grease guns. The LockNLube grease coupler will not leak when locked onto a grease fitting. When not in use, the Loop & Lock storage design keeps the coupler secured and clean.
Our grease guns also feature an in-line hose swivel so you can rotate the hose and coupler without spinning the grease gun. We also include a 20" high-quality hose - longer than any other grease gun on the market.
The LockNLube® lever grease gun delivers up to 10,000 PSI and an ounce of grease in 28 strokes. This rivals any lever grease gun out there. Our locking coupler means that you have both hands free to pump, and aren't using your ribs or machine to push the grease gun. We feature a one-year warranty on all of our products. If you experience any problems in that time, send it back and we'll replace or refund your order.
WHAT IS THE LOOP & LOCK?
LockNLube® created the patented Loop & Lock design because we know that the grease gun is part of your life, even when it isn't being used. In the past, this meant it was getting grease on everything it touched and making a mess in your truck and toolbox. Now, you clip your LockNLube Grease coupler onto the storage Zerk, and you can store and carry your grease gun without the fear of it leaking and making a mess.