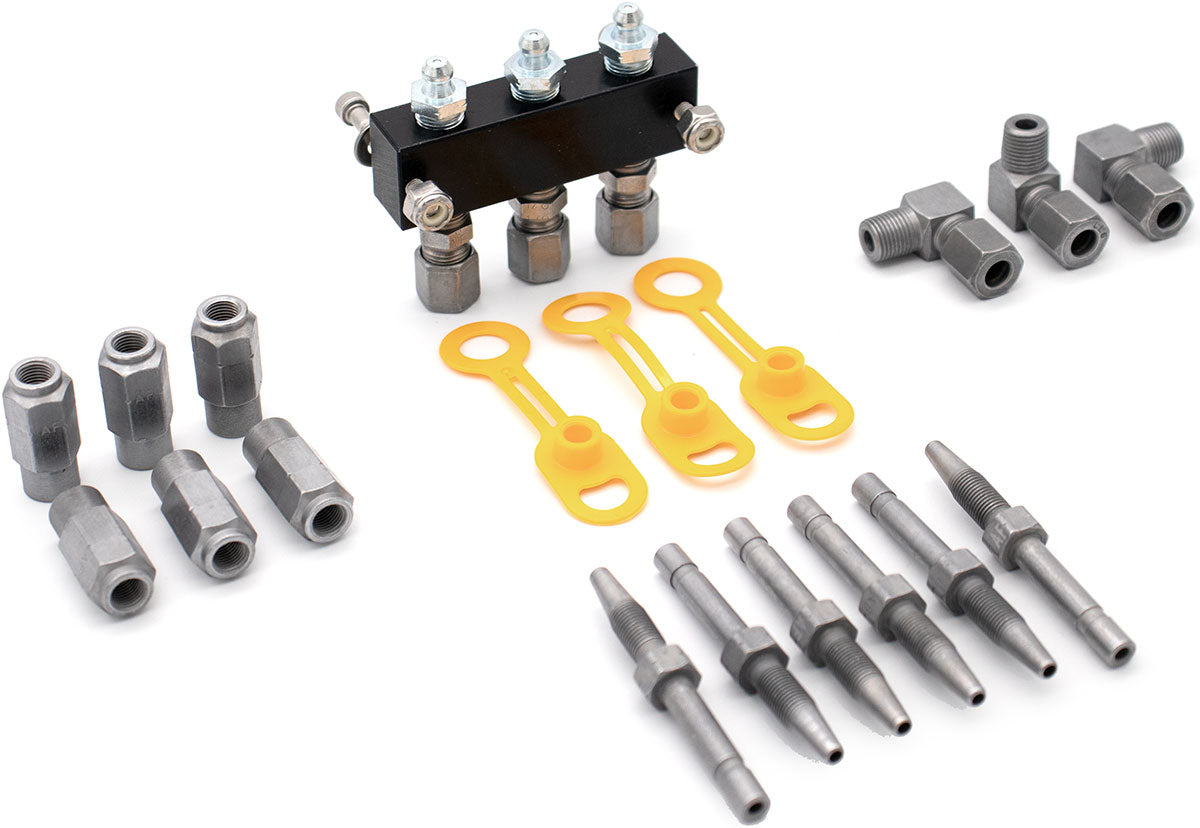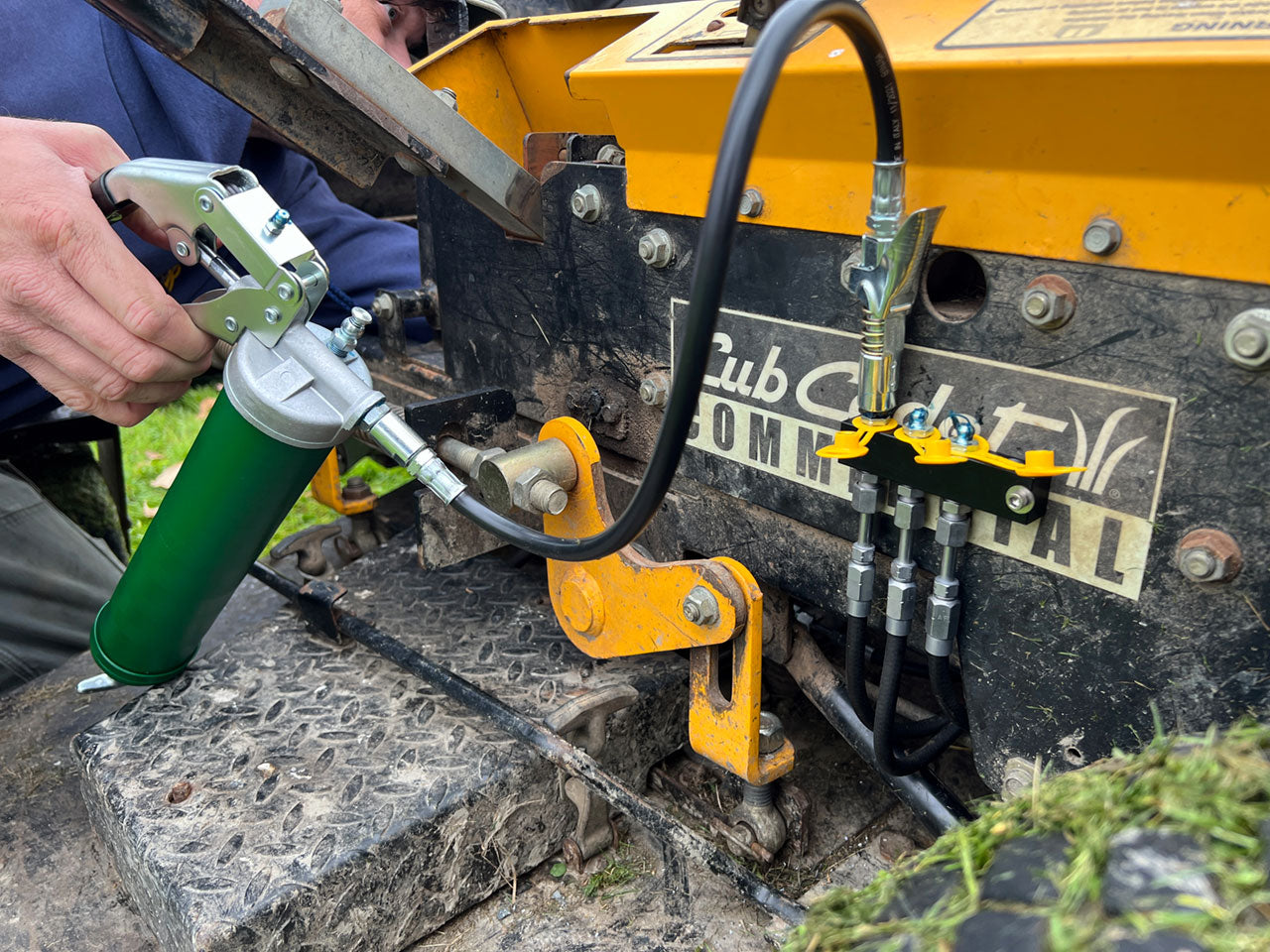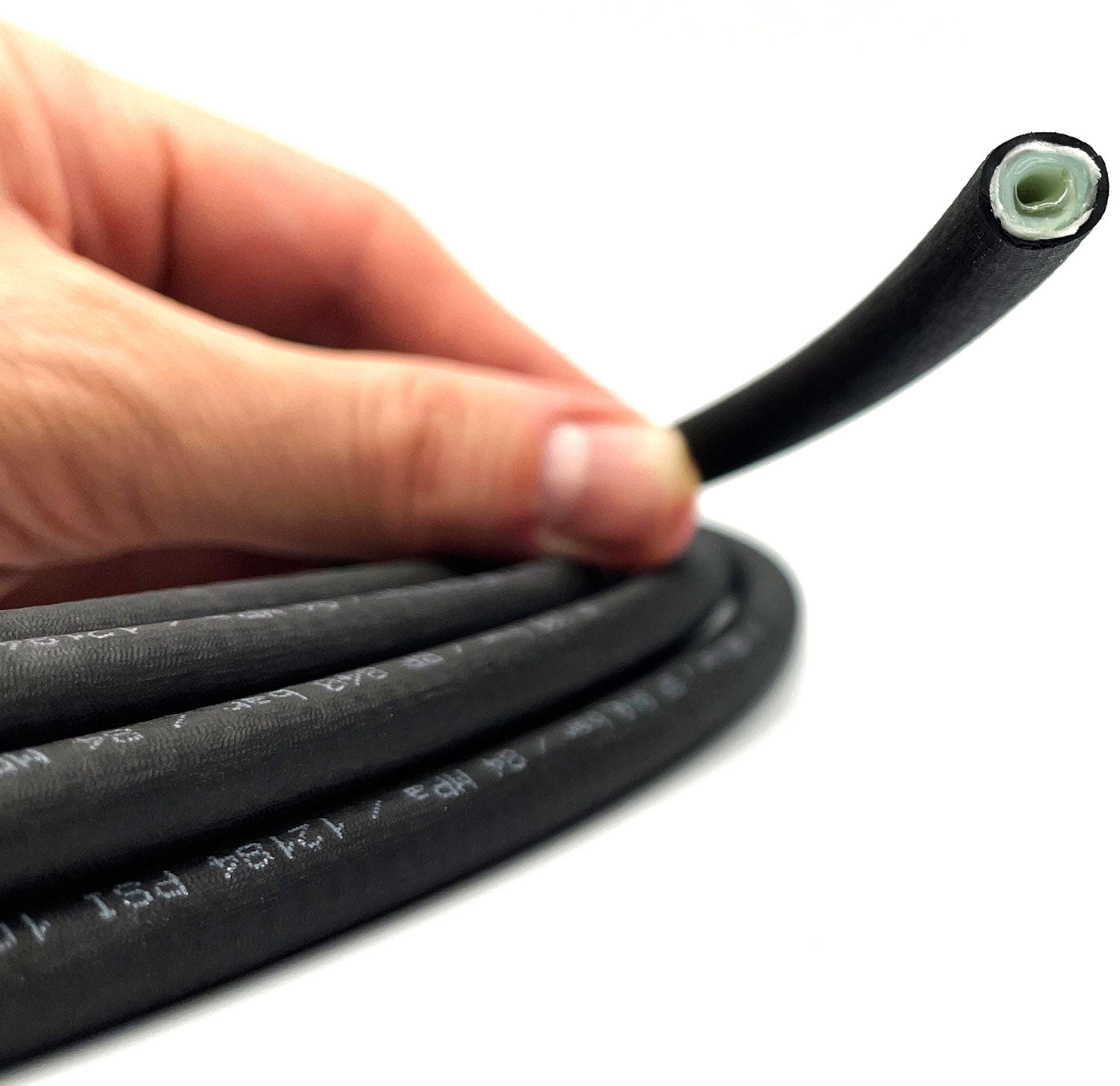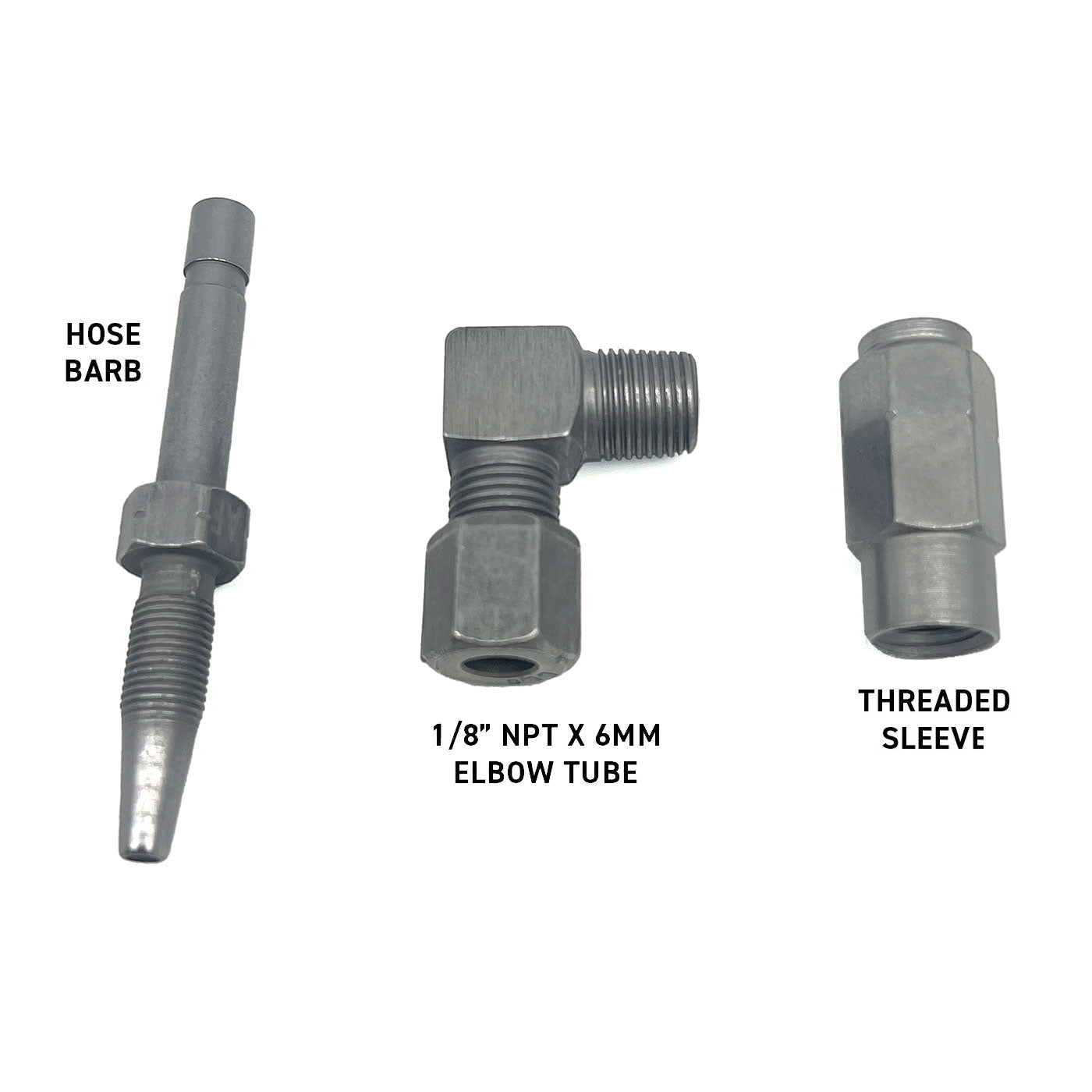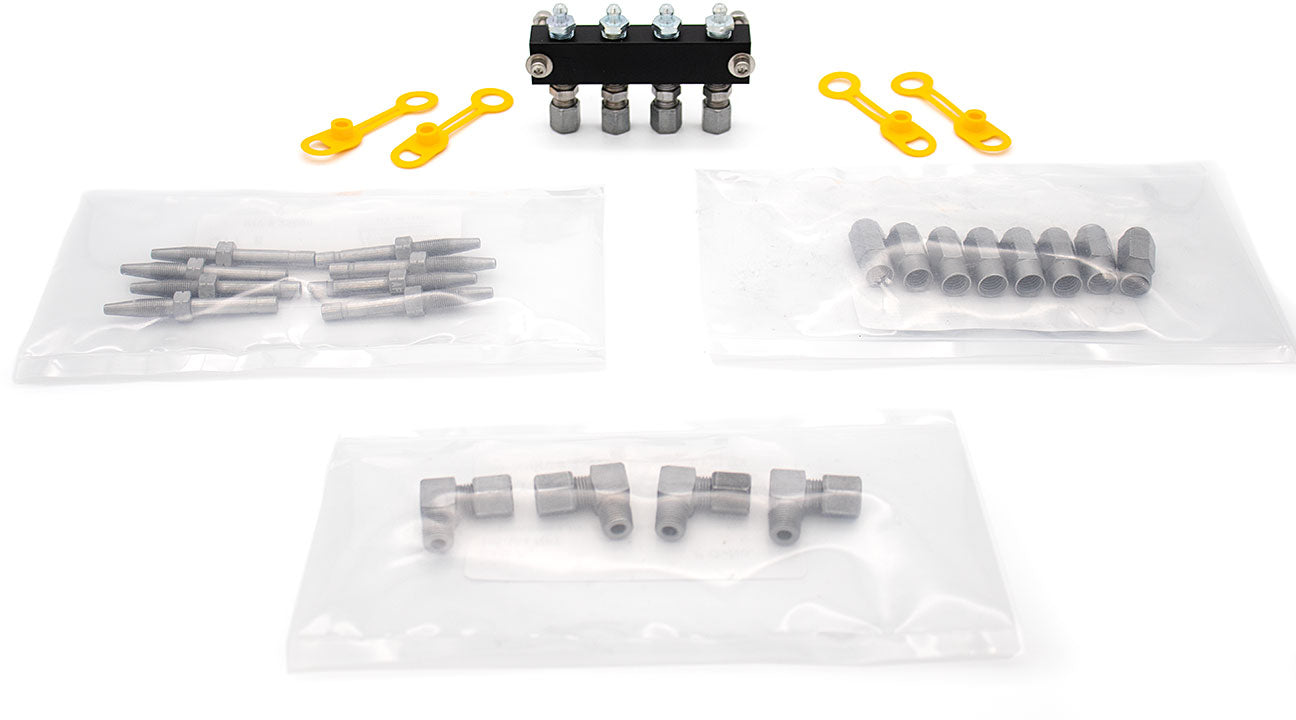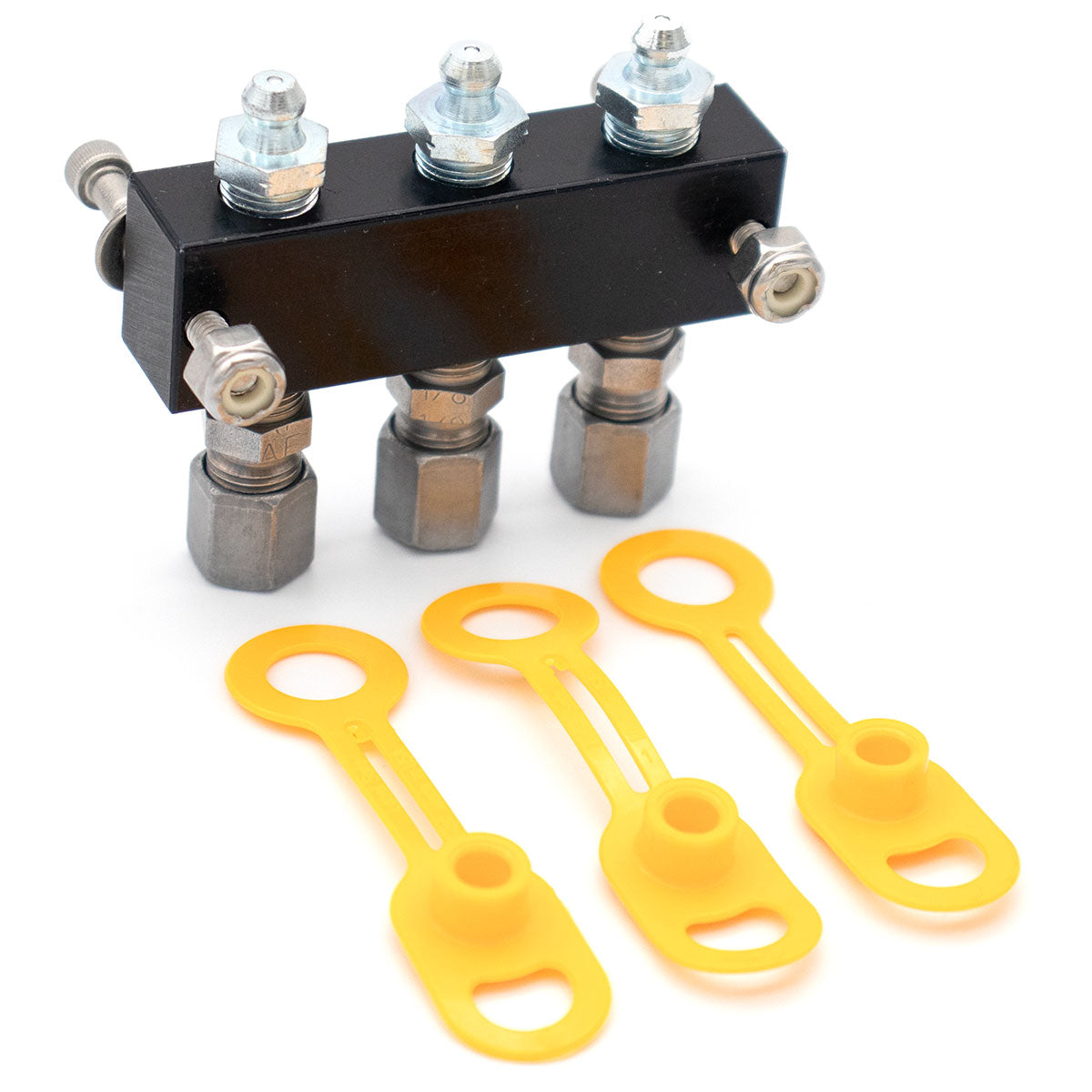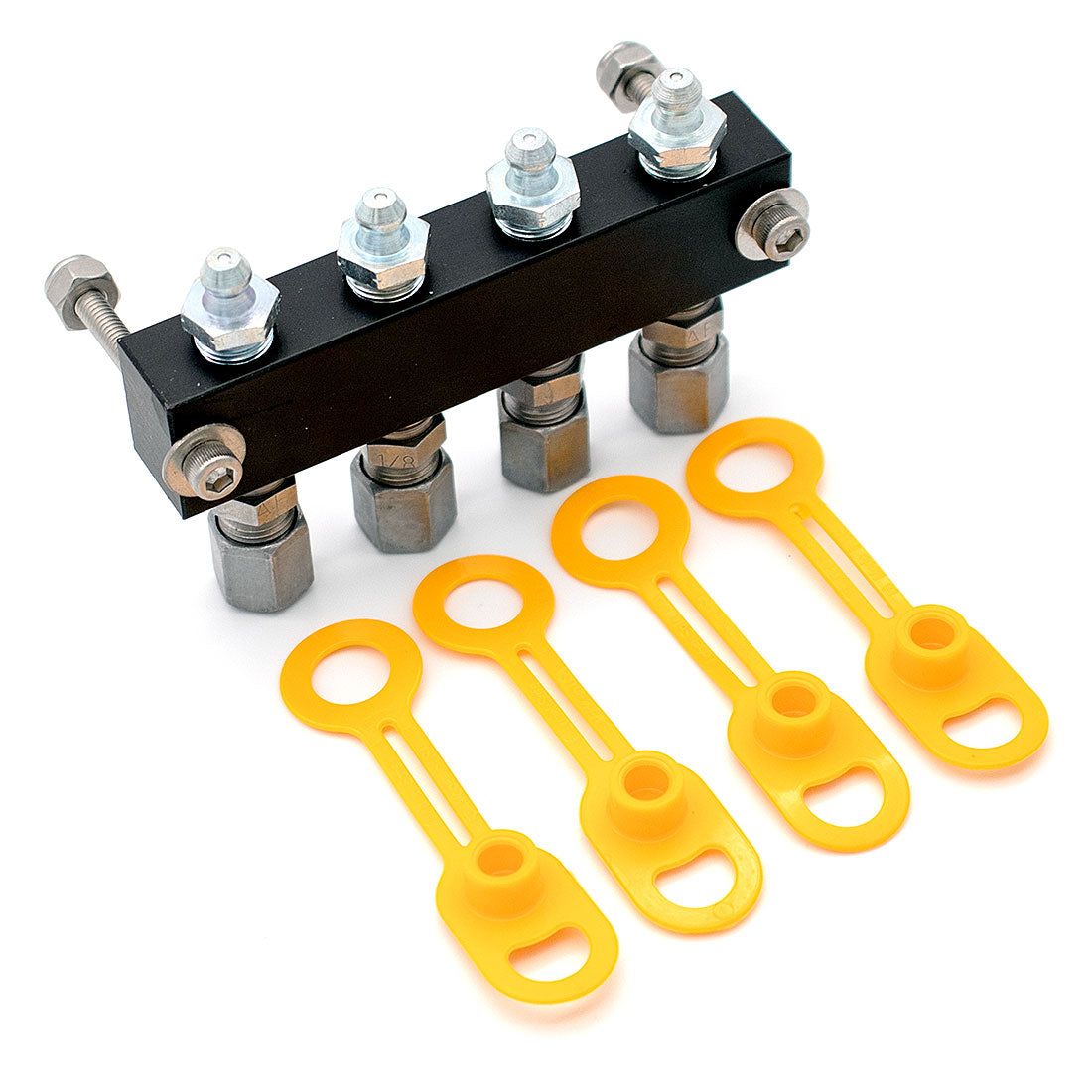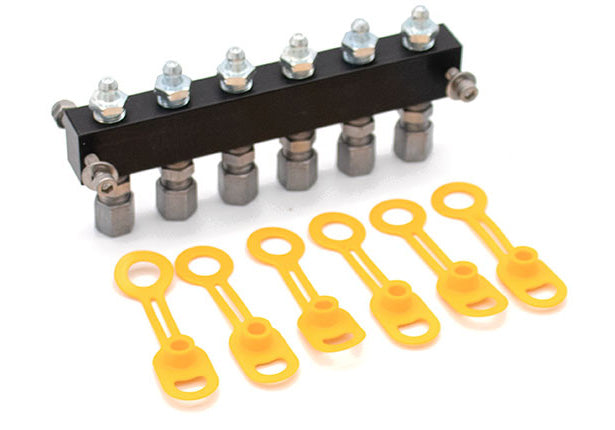 Relocation Manifold Kits
You know how important it is to keep your costly equipment properly greased and maintained. Now we offer the best way to make that task more efficient than ever before. Introducing our innovative Grease Fitting Relocation Manifold Kits - the ultimate solution to simplify and streamline your machine lubrication process!
Our kits make it easy to run grease hoses from multiple fittings on your machine to a central grease fitting manifold. By bringing all of your grease points to a central location, you make the task of lubricating the machine faster and easier with less mess and less downtime.
Choose from 3, 4, or 6 connection manifolds. Each kit comes with an extra long roll of pre-filled grease hose that you cut to length. All the hardware is included to bring multiple grease points to one, central, easy-to-service greasing point. Hose clips are sold separately.
Available in 1/8" or 1/4"-28, choose the kit that matches your machine!
Each Kit Contains:
Three (LNL81703 ), Four (LNL81704) or Six (LNL81706) Point Manifold
Milled Aluminum Point Manifold Block
Compression Tube Fittings
Replaces Zerk fittings, click here for more adapters
Mounting Hardware (Locknuts, bolts & washers)
3, 4, or 6 Zerks (Grease Fitting)
3, 4, or 6 Zerk Dust Covers
9, 12, or 18 meters of 100-001-M 8mm HP Hose grease filled (on average 3 meters per point is used)
100-050 Threaded Sleeves
100-051 Tubular Socket Elbows
106-104-NPT - 1/8 NPTM x 6mm tube, elbow
The included parts terminate at the bearing with a 1/8" NPT fitting. See below for custom LockNLube adapters that allow you to replace any Zerk on any machine:
43716 1/8" NPT (M) X 1/8" NPT(F) - 45 Degree
44701 1/8" NPT (M) X 1/8" NPT(F) - 90 Degree
51942 1/4"-28 Taper (M) X 1/8" NPT(F) - Straight
51943 1/4"-28 Taper (M) X 1/8" NPT(F) - 90 Degree
310912 1/4"-28 Taper (M) X 1/8" NPT(F) - 45 Degree
120NP-AM6 M6X1 (M) TO 1/8" NPT (F) - Straight
120NP-AM6-90 M6 X 1 (M) TO 1/8" NPT (F) - 90 Degree
LNL193-90 M10 X 1 (M) TO 1/8" NPT (F) - 90 Degree
LNL194 M8 (M) TO 1/8 (F) Brass - Straight
LNL194-90 M8 (M) TO 1/8 (F) Brass - 90 Degree
LNL195 M10 X 1 (M) TO 1/8" NPT (F) - Straight
LNL272 7/16-20 (M) TO 1/8" NPT (F) - Straight
LNL273 7/16-28 (M) TO 1/8" NPT (F) - Straight
For use with:
Manufacturing plants, food processing facilities, paper mills, wastewater plants, and more
Agricultural equipment: harvesters, headers, diggers, tractors, trailers, hay balers, backhoes, milking machines
Transport industry: trucks, trailers, vocational specialty vehicles
Mobile mining machinery: excavators, drilling machines, screeners, impactors, crushers, and more
Stationary mining equipment such as conveyors, crushers, processing plants, mixing stations
Oil and gas drill rigs, pumps, and more
Customer Reviews
Write a Review
Ask a Question